Well, Marriages are made in heaven, but you need to pitch in some effort to make it more meaningful. With time, we get busy in getting settled in life, making a great career, taking care of children etc., that we tend to neglect our primary reasons of being in a marriage, like preserving and cherishing togetherness. Be it a husband or a wife, who ever identifies the void that is occurring in the marriage, should take it as a duty to put a step forward to bring that warmth of love in it again.
Being emotional beings and having high reception skills, it is usually we women, who tend to recognize that void. Though we try to sit and talk on such issues, it is common that most of the times the reply we receive would be like, "Oh come on, there's nothing like that. I'm doing what all I can do for the family" with which I can imagine how frustrated you would be.
There's nothing like a great marriage, but people make it great by being in marriage. But, it is like this? You experiencing that gap and he being busy not even noticing it. Don't worry, men are like that. They need some triggers and hints to help them identify what is actually missing in your family life. Here are some tips to go ahead.
Surprise Him
It is actually common to observe that women can get the attention of men when they surprise him. Maintain basic hygiene and smell nice. Try dressing newly, get your haircut done, your hands and legs waxed and have a facial done. Try some great perfume that matches his taste. Get well groomed according to his preferences. Cook his favorite dishes and arrange the table nicely. Play some music and make the ambience appealing when he arrives home for dinner.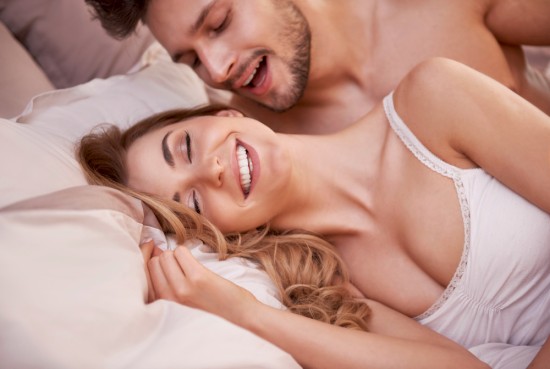 Do something that is not like every day. But don't do everything at once and expect a sudden change. You need to pick it up at a slow pace. You need patience and perseverance. It's okay if everything is fine between you both. But, in case, you both had an argument recently or having differences in opinions and bashed into each other last night, impressing him in this way at a jet speed, would make him flout at you. So, be careful in your approach according to your situations. In the same way, trying to be more romantic while kids are around would make him go kind of introverted.
Be His Minister
Update your knowledge with current affairs. Read newspapers and articles on current issues to get some knowledge. Sit with him and enjoy his preferences like watching news, a cricket match or a football match, discussing politics etc. Be with him and make your presence felt. Not by annoying him, but by attracting him with your wit and humour.
Think how he likes and what he likes and behave accordingly. If you were trying to change your way of approach or your behaviour with him, don't do it all of a sudden in everything and don't try to impress him at once. Nothing can be done all at once and you would feel upset with his indifference. Your reactions when you get upset will also matter a lot. Hence, don't stress yourself for a sudden change or showcasing some sudden interest overnight.
Always Be Available and Attentive
It could sound like some old lady's statement if I say that a woman should take care of her family, especially her husband and his needs and should be always available for them. But it is the secret of a happy marriage.
Try attending his needs as immediate as possible
If he needs some important papers, help him in searching
Store all his papers, documents and important booklets etc. in a nice folder and make it available always.
Receive his vehicle keys, belt, purse, phone, watch etc., after he returns from his work and store them in a certain rack to make them available whenever needed.
Be attentive to every details of him, like his debit and credit cards, ID proof cards etc. and make the available for him.
Remind him of all the bill payments in time and save those receipts in a folder
Be ready with answers as to avoid searching for anything and help him get less frustrated
Most importantly, please don't criticize him with your words that he is not capable of taking care of anything and it's only you who had to take care of even his papers. If you say that, all the effort goes in vain. It is he who should realize and fill his heart with warmth of love for you. Because, it is not the matter of having some credit of being nice, but fulfilling your responsibilities as a good and loving wife.
Emotional Advocacy
Having him emotionally near can make you near to him in all the other ways too. To win a man's heart, you should be emotionally close and available to him along with maintaining physical attraction. There's no need to emphasize more on physical appearance as you would already know his preferences on how to attract your spouse.
It is a common doubt that wives have if he still loves you. His actions will always let you know if he is interested in you. So, observe he is responding to each and every change you show for him. Don't expect much but keep trying to see the gradual changes. After all, it's your life, how can you give up when you don't have instant results?
Changing Your Ways
It is often heard that you should be loved the way you are, but not after you change to what you are not. Please come out of such illusions. You are not what you are during your childhood and you won't be the same after a few years or when you grow old. Then, what? Change is inevitable. So, change your ways if it feels matured, organized and well-behaved. What could you expect in return? You can have respect and applause, everywhere. Especially your husband would be proud of you.
In case there's nothing wrong on your side, try doing things in his ways and ask him how it feels. Take some genuine feedback and ask what way is it convenient for him. Just like you do for yourself, right? Don't try to argue with little knowledge. Try to learn new things from him which make you have respect for him. Men want to be with women who look up to them for advice and help. Every man is different in his way like every woman does. So, never be too haste. Be patient enough for some positive outcomes.
Mistakes that wives do unknowingly
There are many mistakes that wives commit unaware of the fact that they hurt their husbands a lot. Few things which wives do could affect them emotionally and they shut themselves off making husbands confined to their own shells. Please keep in mind that you never neglect the below things.
Take care that your words don't hurt him
When you are in anger, validate your understanding before responding
Be kind and soft spoken to him unless it is high time
Don't play jokes on him, especially before his friends and family
Praise him in the presence of his colleagues
Compliment him for what he is
Stop finding faults continuously
Welcome him home with a smile
Satiate his appetite
Follow his advice religiously
Offer a massage if he's tired
Listen to something he says with interest, though it doesn't interest you
Let him speak more, prefer listening to him and praise his knowledge
Let him enjoy his hobby, guilt-free
Praise him in front of the kids
Let him make a call on parenting decisions
Kiss him while leaving home
Encourage him to hang out with friends
Encourage his monkey business with kids and try to enjoy their happiness
Look at him for no reason
Remember all the positives about him
Feel his muscles whenever you come closer
Having done all these genuinely, he gets to understand how much you want him to be yours. A man always believes in actions. So, you should act while being smooth in talks too.
Be Independent
If you are such a kind like, "Honey, I need money for shopping" or "Hey, Please pay my bills at the parlor", don't expect your hubby to love you always. He might not express the regret of not marrying an independent woman. It doesn't matter how much you earn, but the thought that you work to support the family, matters the most. When you are ready to share the financial load, or maybe at least your personal expenses, he feels relieved that his burden is being shared.
With your earnings, you could gift him something if you wish to surprise him or you could save it for the future. You could also stand as a support pillar for the family in case of unexpected crisis. Such support from you will make him fall for your kind heart, though it is actually your responsibility. So, start thinking about your career, today.
Still feel like you are missing something? Do you feel the need to consult a marriage therapist? Our empathetic counselors are always ready to lend an experienced ear for you, to give you some expert piece of advice. Book an appointment, now.