How to Know If You Need Marriage Counselling? and is it Effective?
Whenever the word 'marriage counseling' crops up between the couples, it leads to many unspoken fears and endless thoughts leading to different feelings. In society, generally huge arguments between the couple are often suggested for marriage counseling for giving one more try to the relationship. But couple sees the counseling as a final straw before heading separate ways.
But, in reality, marriage counseling is basically a 'bridge' for a couple to use in a relationship to cross the difficulties or issues and influence the marriage in a much positive manner.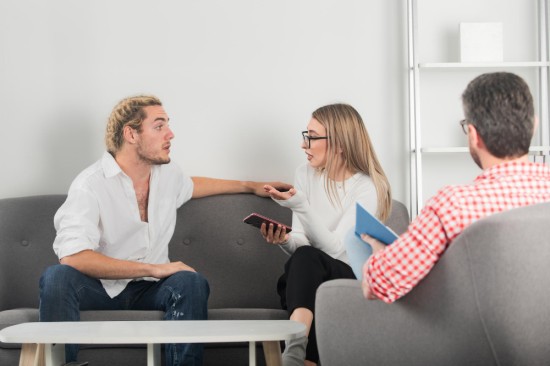 Signs for Marriage Counseling
Here are the signs that indicate it is time for the couple to head to a counselor.
Lack of trust:
if the couple are finding extremely difficult in trusting each other after going through a situation whether it is extra marital affair, lying in finances which also causes emotional turmoil in the relationship, ultimately counselor would help in dealing with the events happened.
Gap of Communication:
A lack of communication amongst the partners in which it leads to secrecy from each other, frequent fighting, general disinterest towards each other and not confronting the issues to each other. Counselor in definite terms would teach communication techniques to the couple in sharing feelings to each other without any judgment.
Spending less time together:
Depending on the nature of the relationship, sometimes it is okay to become closer or drift apart for a short period of time. But when there is consistency in being away from each other, spending free time apart, is a signal for the partners to find their rekindled spark through marriage counseling.
Change in relationship goals:
Relationship changes in due course of time. Sometimes many couples have their own perspective plans wanting difference in their lives. If ignored much, divorce would be looming over their heads. So to bring healthiness and calmness in relationship, marriage counseling is a necessity in navigating the challenges, adjustments and communication barriers which would come up along the way in a relationship.
Life Changing Events:
For life changing events like birth of a child, death of a family member, loss of a job, getting transferred in a job frequently would definitely shake the foundation of the relationship. Dealing with such situations would often lead to stress and distance between the partners. In these terms, marriage counseling can keep both the partners on toes in working out the relationship during mental, physical and emotional transitions.
Addiction and Stress:
If one of the partners has an addiction of alcoholism, gambling or addiction to any kind of thing, would lead to serious toll on marriage. Counseling would definitely help to work through the problem together and heal their relationship in process.
Personal Struggles:
When there are personal struggles in a relationship that could be psychological illness or struggling in the career, then either of the partners would hesitate to open up. In this difficult point, counseling would help them in empathizing with each other and understand each other in order to being more supportive and considerate.

When "love isn't enough', the couples would have discrepancy in levels of desire such as being affectionate and caring, sex, emotionally focused conversation, fun, raising the children, attachment with friends and family. In these cases, failure to understand or unable to empathize would in turn lead to unhealthy and negative pattern in relationship.
Do We Need Marriage Counseling?
The prospect of counseling itself make people hesitant to further venture into this, but counseling sessions makes the person him or her to relieve their stress, anxiety to specific issues and eventually making progress in mutual understanding for a future healthy relationship. Investing feelings in understanding each other for mutual benefit is the most challenging task but yet the easiest way by speaking with a counselor. There are few of benefits which a couple would gain from marriage counseling.
Help in clarifying about their feelings
Improvisation of personal growth in a relationship
Deeper understanding and positive communication amongst the couple
Learning to work and process through resolved issues
Resolving conflicts and misunderstandings in a healthy manner
Building a positive emotional and physical health
Building an effective self-esteem
How does Marriage Counseling Help?
With the help of marriage counseling, the couple's significance and reciprocal nature of their own behavior and attitude which would make them face the reality and give themselves a new positive perspective in their relationship. Due to counseling, it would make the couple understand that, if not taken help in time, a vicious cycle would form which would lead to ending of relationship.
Marriage counseling would also help in bringing out the mutual exchange and openness between the partners, learning how to solve complex and sensitive situations constructively and respectfully, giving undivided attention in listening when either of the partners is talking and also controlling verbal or non-verbal put downs, i.e., making face or rolling your eyes.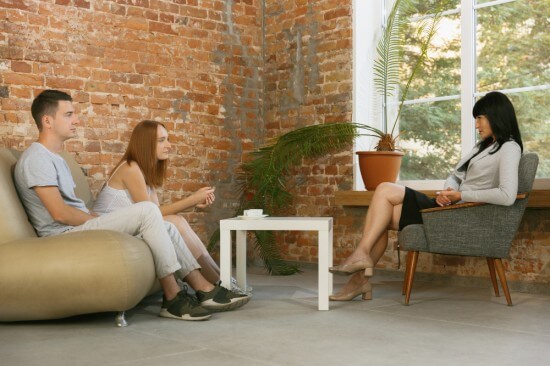 How effective is Marriage Counseling?
The effectiveness of marriage counseling is totally based on motivation of partners in a relationship. It is really effective when a partner genuinely wants to save his/her marriage by taking up initiative to help each other in finding way to deal with the difficulties in the relationships. with the help of marriage counseling, couples would have deeper understanding of each other and would start beginning of a new relation with positive thinking and good approach.
The most important truth is that with counseling comes the effectiveness in building a stable relationship that is much stronger than before. In fact, thousands of marriages with a complex situation have been transformed with the help of counselor who understand where a partner stands and would care how to help in fixing the couple's relationship. As per the facts, the statics mentions that the couples attend counseling sessions for many reasons such as parenting troubles, financial issues, negative communication, physical and emotional abuse, loss of love, etc.
A study conducted in United States by American Association of Marriage and Family therapists, reports that the marriage counseling conducted has 98% of couples in effectiveness and benefit from the happy counseling. They felt they had received excellent therapy and have gained most from the counseling. 90% of the couples felt they are ready to tackle marriage problems after they have completed their sessions.
Principles of Marriage Counseling
Even though for helping in dealing out the issues in a relationship most of the couples try for counseling to save their relationship, couples should also try strengthening their bond by trying to adapt to the principles. Apart from trying out following the principles, if further couples would still come forward for counseling, there are high percentage of chances that the couples would enact positive change in their lives.
There a few principles which were developed by John Gottman which is also known as 'The Sound
Relationship House Theory'.
Improving Communication: Infliction of positive communication is really necessary between the partners.
Supporting Each other emotionally: Able to help and support each other during difficult times.
Turn towards instead of away: Always state your needs, be alert of the connection and respond to them on time. The small moments of life are the building blocks of the relationship.
Always turn towards each other with fondness and admiration: This level basically focuses on amount of affection and respect within a relationship.
Positive perspective: The presence of a positive approach and attempt of repairing the issues as well.
Manage Conflict: We generally say 'manage' conflict rather than 'resolve' conflict, because conflicts in relationship is natural and has positive aspects as well.
Trust: When the person thinks that his or her partner acts and maximizes in the benefit of the person not just their own personal interests and benefits. This states that the person is having his or her support for me.
Creating shared meaning: Understanding important goals, narratives of your relationship for much better understanding.
Building love maps: Focusing on how well do you know your partner's worries, stress, joyful moments or hopes
Who can Benefit from the Gottman Method?
Gottman says that 69% of marital conflicts are perpetual problems and are of particular focus in much of the work. The Gottman method is basically designed to support couples involving various sectors such as economic, cultural, sexual orientation and racial.
Some of the relationship issues that may be addressed in the therapy include the following:
Frequent conflicts and the arguments
Poor communication
Emotionally distanced couples on the verge of separation
Specific problems such as sexual difficulties, infidelity, financial aspects and parenting as well.
According to Gottman, Couples who have normal levels of conflict would definitely benefit from the Gottman couples therapy. It also aims in building stronger relationships overall and healthy way in coping up with the issue as they gradually would arise in the future. It is always better to undergo Marriage counseling as early as possible. In case you are having any doubts on when and how to contact a marriage counselor, you may try a free introductory call to find out if you really need a marital counseling. We have a curated list of wellness experts that help you with your marital issues. Book an appointment, today.