Is anyone else's Anxiety going crazy with all that's going on in the world?
Are you feeling Anxious? Do you observe your anxiety levels going high these days with what's all around? You are not alone, not at all. You might not be aware that people around you are also feeling the same but not expressing it. In fact, anxiety gets induced when you feel that something is unclear and uncertain around you. If you are feeling the same, welcome on board! Studies say that people who seek professional help like having a talk with a psychologist, either offline or online, can help you to effectively cope with these situations. To be more precise, online counseling with expert psychologists is the best solution to deal with your anxiousness, especially when you cannot come out of your place.
Though anxiety is caused in a situation where our body detects a threat, (physical or psychological) there are certain factors which maintain anxiety and keeps it going. Anxiety can be mild, moderate, and severe. Though it is common to feel anxiety, it's not less than a challenging experience. Anxiety can disturb your personal life, social life and your work life too and can weaken you both physically and emotionally. Being in an anxious state weakens your thinking and strength to act upon anything too. Understand this state and decide if you need this.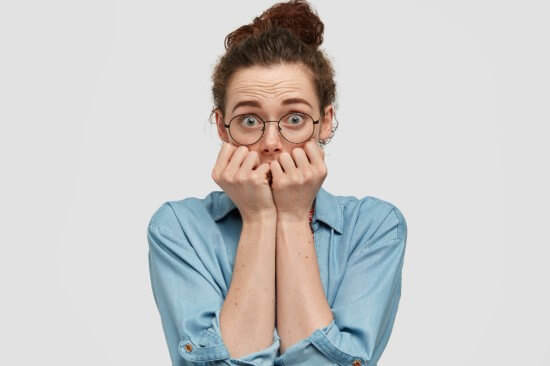 How to tackle with this?
An increased arousal accompanied by generalized feelings of fear or apprehension can be termed as Anxiety. A vague concern that something bad can happen like an apprehension can trigger anxiety. Some people feel anxious throughout a certain period while some make it a habit of getting anxious always. If your surroundings or the happenings in the world around you are responsible for making you anxious, think again on how deep you need to take them in and how far you have to react to them and what happens if you don't bother at all. Unless you are some sitting member of government, there's less chance of doing anything from your side. If you think you can do something, note down all the possibilities and plan to work accordingly. Though the sky is not literally falling, there's some distress that feels like impending doom and the end of the world.
But why don't you try to accept what's going on around you? What could happen at the worst? You might lose your house, job and other things too. But, you still have life in you and the spirit to work to get everything you need back, right? Losing confidence is the most vulnerable thing that can happen. Being anxious makes you lose confidence and what else can be worse?
Symptoms of You being Anxious
The most common physical problems that people suffering from anxiety face in their daily lives are the following.
Restlessness – People with anxiety feel so restless. They can't think properly and their decision making gets affected because of the anxiety
Body aches – The body aches such as joint pains or muscle cramps is found in the people suffering from anxiety disorders.
Chest pain and Palpitations – Rapid heartbeat and pain in the chest area can occur when someone feels anxious. This happens due to the change in blood flow.
Dizziness, Poor concentration and Memory – Anxiety can result in head-spinning, leading to dizziness. It could also result in poor concentration and memory loss.
Racing Thoughts – Unnecessary worries and thoughts could pre-occupy the mind. Anxiety could give racing thoughts and negative thinking. This leads to emotional drain.
Breathlessness – Such tensed state could leave someone in breathless condition. Being anxious could also bring trembles and over-sweating.
Stomach Upset – Anxiety could trigger bowel movement. Indigestion problems, gastric, and stomach upset might also occur.
Anxiety comes in reaction to a stressor. Rather intense and extended periods of anxiety in an individual, can trigger an anxiety attack. In people who suffer anxiety attacks, the anxiety increases either slowly or suddenly to a higher level that is unusual for them. The symptoms are more severe than simple anxiety and are less severe than a panic attack.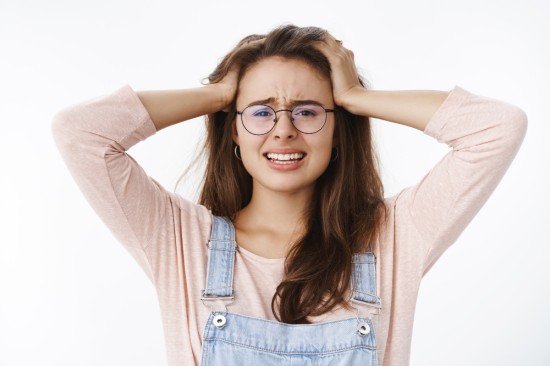 Symptoms of Anxiety attack
Feeling irritable
Restlessness
Feeling on edge
Experiencing the periods of blank mind
Unable to sleep or difficulty falling asleep
Muscle tension
Unable to control worry or tears
Getting tired easily
Having difficulty in taking deep breaths
These are some of the major symptoms of Anxiety attack. It might happen that people experience anxiety attack when they are about to encounter a similar situation where they had panic attack before. In other words, the thought of encountering a panic attack could also trigger an anxiety attack.
Stop Your Anxiety
You may stop your anxiety triggering conditions from affecting you, if you can willingly work on reducing it. We tend to get both helpful and unhelpful thoughts, while it is these uncontrollable unhelpful thoughts that cause damage to our mental well-being. This kind of thinking affects our mood, anxiety and stress levels a lot. Hence, it is high time we stop which else would stop us from doing or being anything, but just worried beings.
Taking the help of experts in reducing your anxiety levels is a better decision in these tough times.
Wellness Hub has a curated list of psychologists who are well-experienced, empathetic and non-judgmental. Log on to Wellness Hub and book an appointment for your online counseling session, to equip you with the skills of dealing with your anxiety.