Is She working from home during this Lockdown?
The present scenario of lockdown has made all the companies to get their employees work from home. Along with many IT and non-IT companies, and public sector and private sector companies, those which have the opportunity to get their work at least partially done are allotting work for their employees. Some companies are trying to make the things work by allowing them to finish their work whenever they can but are asking to finish the daily targets.
Work stress while balancing the responsibilities both at work and home might make you suffocate. Experts are suggesting opting for online counseling when such emotional problems bother you.
Are you a Working Mom?
Are you a working mother who is running helter-skelter balancing the requests of your family members, cooking all the day, preparing delicacies, taking care of their mental health, trying to spend some time with them while simultaneously working from home during this lockdown?
You're not alone. It is not at all an easy task to balance your personal life and professional life being at home all the time. You must surely be feeling that you're not doing enough justice to the other. Don't worry. We can't help being perfect as much as we do. But this habit of meeting those standards may not be always possible. Especially during these times, such thinking would make you feel very low and incapable.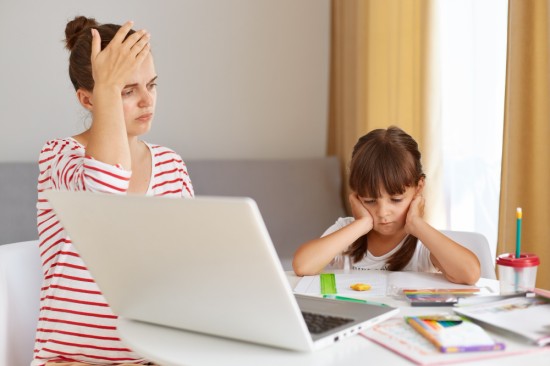 Here are some tips to tackle that emotional imbalance.
Keep your cool. Always keep your mind calm and do whatever you have to. Never do anything that disturbs your mental peace.
Take rest if you have to. In case you feel like too tired, it's okay to skip work for some time and take rest.
Let that perfect girl go away. Don't let those thoughts of being a perfect mother, perfect wife and perfect employee bother you. That's really harmful.
Plan according to your convenience. Allot the timings for all the work you have. Sometimes, it might take some extra time, don't worry.
Include the gaps and rest time in your schedule. It is highly important to take breaks and take some rest in-between works.
When you need to do something that needs brain work, do it when no one is around you. Find the right time like early in the morning as the brain will be active.
Take some time for yourself, at least half-an-hour maybe in the evening. Have a sip of fresh coffee having nothing in mind. Enjoy calmness.
Keep a check on your mental health. Understand if you are getting anxious because of the corona news or feeling lonely or depressed.
Take the help of family members. Allot some duties to all of them. Ask your children to help you in cutting vegetables or cooking or maybe cleaning the house, according to their age.
Let everyone know what you are going through and accept their help and support. Don't hesitate. This is how a family works.
In case, you encounter some negative remarks, don't feel bad. Don't bother about the outcomes and comments. It is common that you might encounter some negative results or comments like, "You should have done it in a better way" or "Why don't you make it faster?" So, don't expect anything in return. The conditions prevailing outside might take a toll on our mental health especially for the people suffering with anxiety, depression and other mental health conditions.
Having a talk with professional mental health experts through online counseling can help you overcome the emotional issues you could be facing at such tough times. Wellness Hub provides psychological counseling, through online video call or a phone call, for a sound emotional health as it is the right thing to do while staying at your place.