In today's talent-dominated world, it is highly necessary for every organisation to motivate their workforce in putting their best efforts. Having a great team of talented employees is one part while making them use their full potential willingly with high commitment is another big thing. Achieving this task is possible through Employee engagement. Lately, there have been many buzzwords in the market confusing you about making your workers more productive than before. In fact, all these come under the same roof named Employee Engagement. Motivation makes them Engaged.
When your company holds the team of motivated employees that are enthusiastic about your company and your brand, that itself is a great factor for your success. Today's employees tend to be an integral part of their organization. They just don't see it as a place to work, instead, they like to carry the name that they belong to certain company by owning the fame.
This generation of employees is not someone who work only for a pay-check at the end of the month, but the ones that want to a part of company's success by making their work count. If such kind of work satisfaction is not received, in other words, if they are not engaged, they don't hesitate to leave the company.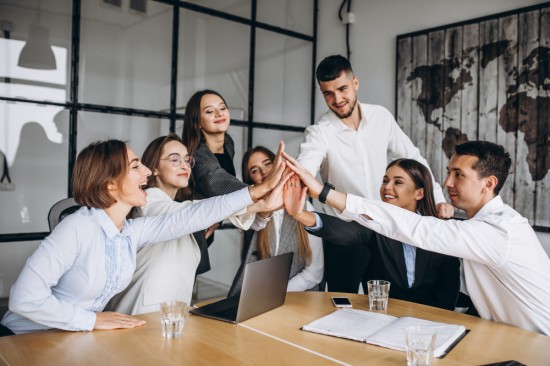 To put simply, employee engagement is making your employees feel that they are significant in the development of the company, in improving its reputation and protecting its values, culture, and standards. The basis of employee empowerment lies in the trust that you put in them and that they put in the management and the company.
Employees measure that mutual trust offered by the company through the opportunities that management provides them to showcase their talent and hard work, like offering leadership, collecting their insights while taking some crucial decisions, and by allowing them to put up their thoughts about the company on a public platform. Just as said, allowing the employees to share their insights on company, on a public platform, helps the company in two ways.
One is to win the hearts of employees that their opinion is being valued and that they are being the representatives of the company, while the other is that, it allows free promotion of your company through trusted sources that mostly tend to give positive feedback. This is a win-win situation for both you and your employees.
Impact of Social Media
Social media is the most powerful messenger in today's world. When you are intending to send a message from your company to the world, it helps a lot. Apart from promoting your business on social media, which is usually done using different platforms, it allows to make your employees feel that they are part of the company's journey. Here are some important ways to keep them engaged using social media.
Website
Posting the employee profiles on your company website, with their designation and a nice picture of theirs makes them feel proud and they would like to tag it to their friends branding themselves as belonging to the organization. This gives them a sense of belongingness and fosters commitment towards the company.
Social Sites
Having professional social sites like LinkedIn, Twitter and business pages like Facebook page for the company and having the employers as your followers, increases the social presence and social value of your company. Allowing them to post different content related to motivation or company's culture and values increases credibility of the company while making them own the company nd feel responsible towards the fame of the company.
Celebrations
Celebrating employees' birthdays, work anniversaries, celebrating festivals by conducting some fun group activities and celebrating company anniversaries, and people success in the company, makes them refreshing and energetic, while keeping up their spirits. Posting such pictures on company's social media blogs or pages provides a two-fold gain. It makes the employees feel delighted to be a part of such interesting office and it promotes the work culture of your organization, sending positive vibes for
the job aspirants.
Having a "Wow!" wall in your office for displaying the achievements of your employees, and posting the pictures of such celebrations in your office blogs would also help promote your office culture and employee engagement at a higher level. Appreciation, recognition and rewards are the most influencing factors when it comes to employee retention as they boost up the employee satisfaction thus enhancing the employee engagement.
Are you still wondering on implementing employee engagement strategies in your organization? Log on to Wellness Hub or call for a demo on EWA, our potential tool for the holistic wellness of your company's employees. When we work together, we can be a step ahead in Employee engagement.